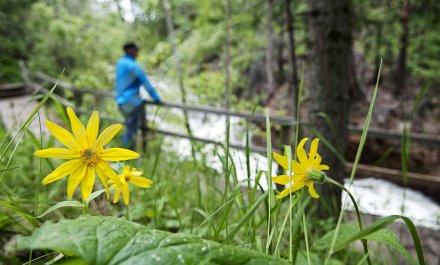 Being so close to thriving natural ecosystems, Kimberley shares its urban environment with wildlife big and small – and that means that we need to be mindful of potential conflicts between humans and wildlife.
---
WildSafeBC
The City of Kimberley is a local sponsor of the WildSafeBC program, designed to reach out to and educate residents and visitors on how to reduce conflicts with wildlife, including: bears, cougars, coyotes, deer, badgers and raccoons.  Keeping the community safe is a shared responsibility – from proper management of garbage, compost, fruit trees, and other anthropogenic food sources, to protecting pets and children from aggressive animals.
WildSafeBC holds displays at community events, is available for presentations to schools and other interest groups, and offers advice on household attractant management and wildlife safety. For more information, please contact Danica Roussy, the Kimberley & Cranbrook Community Coordinator, at 250.908.8101 or kimberley@wildsafebc.com.
.
Urban Deer
In an effort to improve public safety and discourage deer within the City limits, Council for the City of Kimberley has enacted a bylaw which prohibits the feeding of deer within City Limits.  
Current penalties, as prescribed in the City of Kimberley Municipal Ticket Information Bylaw are as follows:
| | | | |
| --- | --- | --- | --- |
| Offence | Bylaw Section | First Offence Fine $ | Each Subsequent Offence Fine $ |
| Feeding Deer | 2.1 | $50. | $500. |
| Permit deer to be fed on property | 2.2 | $50. | $500. |
If you have concerns about or have experienced a conflict with urban deer in Kimberley, please contact the appropriate office:
To report wildlife-human interactions where there is an immediate public safety risk, call 1.877.952.7277 (Conservation Officer Service – Report All Poachers and Polluters 24-hour hotline)
To report a dead deer on city property, please call Operations & Environment Services at 250.427.9660.
To report an injured deer, please call 1.877.952.7277 (RAPP) or visit the RAPP website (link is external).
To record conflict with urban deer, please provide information to the Bylaw Enforcement Officer at 250-427-9663 who will forward the information to the Urban Deer Advisory Committee
Bears
People and bears are sharing space all over British Columbia so it's important that we learn how to live with them harmoniously. 
Bears have a very keen sense of smell and are easily attracted to improperly managed garbage.  Bears that forage on easily accessible fruit are also drawn close to neighbourhoods and to other sources of food such as compost, bird feeders and barbeques.  Bears may break into sheds or homes to find what they can smell from a distance.  Bears quickly become habituated to these foods and spend more time in the city near homes and businesses.  Habituated bears are perceived as a safety risk and are often shot.
Bears cannot change their behaviour - but we can.  We can prevent this safety risk and the needless deaths of bears by removing and managing attractants.
Garbage is not healthy for bears.  When bears learn that garbage means food, they come back to it again and again. 
Residents are reminded that the City's Solid Waste Rates & Regulations Bylaw No 2520, 2015  requires that all garbage be safely stored so it is not accessible by wildlife.  Store garbage and recycling indoors, in a sturdy shed or in a bear resistant garbage container.  Garbage cans should be brought to the curb only on the morning of your designated garbage pick-up day (by 7:00 a.m. but not before 5:00 a.m.).
Compost Responsibly and Pick All Ripe Fruit
Bears are omnivores and love eating vegetation, berries and other fruits.  Make sure your back yard isn't providing lunch for bears!  Check for these bear attractants:
Store pet food indoors
Feed pets indoors
Freeze smelly garbage (like chicken and fish)
Keep your barbeque clean
Remove bird feeders between April and November
Pick fruit as it ripens
Remove unwanted fruit trees
Compost responsibly
Keep garbage containers clean
Remember that a Fed Bear is a Dead Bear!
Feeding bears, even unintentionally, is against the law in British Columbia (see the Dangerous Wildlife Protection Act - Section 88.1)
Report Bear Encounters
Contacts & Resources
If you have concerns about or have experienced a conflict with urban deer in Kimberley, please contact the appropriate office:
For further information, consult the following resources from the BC Ministry of Environment and the journal Ecology and Society: