Kimberley City Council recognizes the value and benefit for all citizens to have access to adequate and suitable housing. A diverse housing supply that can accommodate varying incomes, ages, abilities, and social needs helps to create and maintain a sustainable, inclusive, and resilient community.
For more information on housing, please contact Planning Services at 250-427-5311.
---
Scroll to #housing-needs-assessment
Housing Needs Assessment
The Province of BC introduced legislation requiring local governments to complete housing needs reports by 2022, and every 5 years thereafter. Local governments are responsible for collecting data, analyzing trends and presenting reports that describe current and anticipated housing needs in their communities to inform plans and policies.
In 2021, the City conducted a Housing Needs Assessment. Key findings from the report include the identification of priority groups who disproportionately experience challenges accessing affordable and suitable housing, as well as gaps within the Kimberley housing landscape. 
---
Scroll to #priority-groups-and-housing-gaps
Priority Groups and Housing Gaps
Rising housing costs and a lack of housing diversity have placed pressures on a range of households within the City. This is especially true for the priority groups, which includes seniors, low- and moderate-income households, families, and people with disabilities.
Addressing the priority groups' housing needs requires a greater representation of housing options across the housing continuum. Current gaps in Kimberley's housing supply include non-market rental housing, low-end of market rental housing, market rental housing, supportive housing, and affordable home ownership. Developing diverse housing options would not only better serve the needs of the priority groups, but would benefit the community as a whole.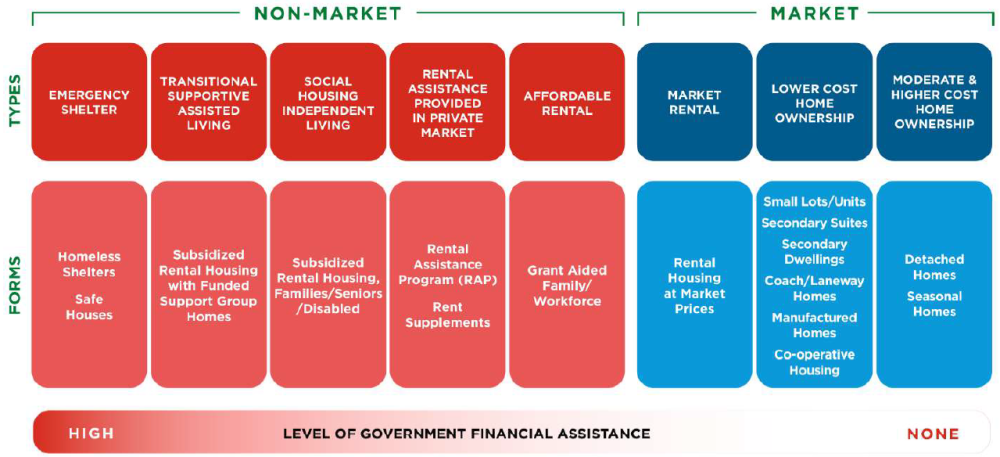 ---
Scroll to #financial-assistance-for-housing