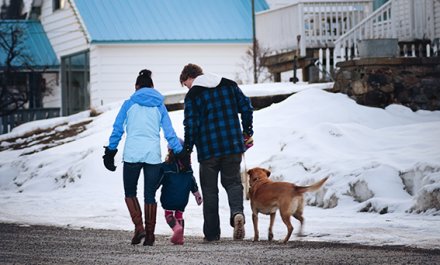 Roads, Sidewalks & Pathways
Kimberlites like to keep moving – whether they're walking, biking, or driving. With over 124 km of routeways, including paved and gravel roads, lanes and pedestrian sidewalks and pathways within municipal boundaries, the City of Kimberley Operations Department wants to make sure that getting around town is a pleasure.
Whether it is snow, ice or rubbish, the CIty appreciates property owners that honour their obligation to keep the sidewalk adjacent to their property clear and safe for pedestrians.
Note that Highway Highway 95A, as it passes through the municipality, is maintained and serviced by private companies under contract to the Ministry of Transportation.
Potholes & Street Repair
Potholes are caused by a variety of factors, such as temperature fluctuations, melting conditions, traffic, etc.  Operations crews patch potholes in between performing other routiine maintenance work; however, due to the large number of potholes reported each year, it can take some time to repair all of them.
How to Report A Concern
To report a pothole or other concern regarding our roads, sidewalks or pathways, email Operations@Kimberley.ca or call the Operations Department at 250-427-9660. Please provide the nearest address and/or the names of cross-streets for the problem area. The City of Kimberley thanks you for your patience and understanding.
Street Use or Occupancy Permits
The Street Use or Occupancy Permit is issued pursuant to "City of Kimberley Streets and Traffic Bylaw No. 1877, 1995" for all works within City road right of ways; including sidewalks, boulevard and unconstructed right of way. To download a Street Use of Occupancy form click HERE