Vaccine Passport no longer required at City Facilities
April 7, 2022
As of April 8, 2022, Vaccine Passports will no longer be required at City recreational facilities in keeping with those orders being lifted by the Provincial Health Officer. Please respect the choices of individual businesses and organizations who continue to request vaccine passports and/or require masking at their locations if they choose to do so. 
Masking no longer required in City Facilities
March 11, 2022
As per the recent PHO orders, face coverings will be optional for people in all indoor public settings. People may want to continue wearing a mask based on personal choice. Thank you for respecting those choices. Vaccine passports will be required until April 8, 2022. 
Vaccine Passport - Failure to Comply Reporting Procedure
September 22, 2021
Interior Health will be enforcing non-compliance of Provincial Health Officer Orders. If you wish to make a complaint, please email: EPHCOVID19@interiorhealth.ca. After public health teams receive a complaint, they will follow up to investigate, provide education/warnings, and issue closure orders if necessary.
BC Vaccine Card Requirements for City of Kimberley Venues
September 17, 2021
In light of recent orders announced by the Provincial Health Officer, the City of Kimberley will be requiring patrons aged 22+ to show their BC Vaccine Card at some Civic Centre events and sporting activities.  After careful review by City staff, it has been determined that:
Proof of Vaccination IS required for:
Indoor adult group and team sports for people 22 years old or older;
Indoor organized group recreational classes and activities with more than 50 people;
Spectators at indoor youth sporting events with more than 50 people;
Aquatic Centre patrons aged 22 years and older.
Proof of Vaccination is NOT required for:
Indoor youth recreational sport for people 21 years old or younger such as minor hockey and figure skating;
Spectators at indoor youth sporting events with less then 50 people;
Indoor organized events with less than 50 people, except adult sports;
Visiting City Hall.
Masks remain mandatory for all indoor City facilities for those aged 12+.
For more information on BC's Proof of Vaccine requirements, please visit www.gov.bc.ca/vaccinecard.
Proof of Vaccination
September 10, 2021
By order of the Provincial Health Officer (PHO), proof of vaccination is required to access some events, services and businesses. Starting September 13, you must have at least one dose of a COVID-19 vaccine. By October 24, you must be fully vaccinated. The requirement is in place until January 31, 2022 and could be extended. 
Find all of the information here: https://www2.gov.bc.ca/vaccinecard.html#required
New Vaccination Clinic Location
August 26, 2021
Kimberley's vaccination clinic has moved into the Kimberley Health Centre at 260 4th Ave. The clinic is open Monday to Friday, 9:00 am to 3:50 pm *Closed from 11:40 am - 12:30 pm
With cases on the rise in our community, now is the time to book your vaccination if you haven't already!
New Restrictions in Interior Health
August 23, 2021
As the COVID-19 outbreak in the Interior Health region continues, further restrictions have been added to slow the spread.
The following restrictions are in place for the entire Interior Health Region:
Masks are mandatory for all people age 12 and older in indoor public areas throughout the Interior Health region.
Indoor low-intensity group exercise with reduced capacity. No indoor high-intensity group exercise.
Effective Monday, Aug 23 at 8 a.m.:
Gatherings in vacation rentals are limited to five guests, plus occupants.
Outdoor personal gatherings (e.g., birthday parties, BBQs) are limited to 50 people, and indoor personal gatherings are limited to 10 guests or one other household.
Indoor organized gatherings (e.g., weddings, funerals, seated events) are limited to no more than 50 people with a COVID-19 safety plan in place.
Outdoor organized gatherings are limited to no more than 100 people with a COVID-19 safety plan in place.
These restrictions remain in place until the end of September and Interior Health experiences lower cases and higher vaccination rates. For more info: https://bit.ly/3j4hwD7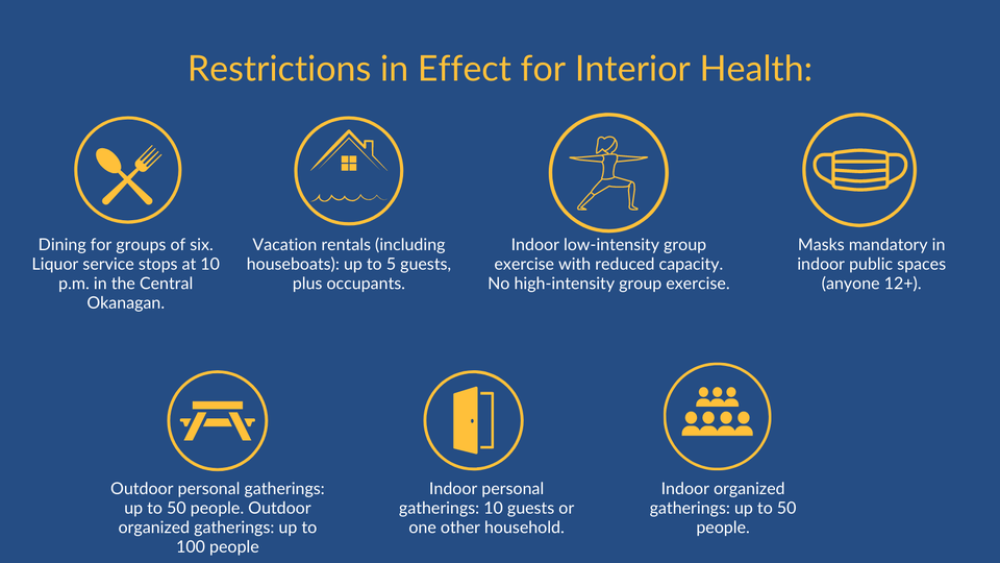 Centennial Hall is Kimberley's COVID-19 Immunization Site
A COVID-19 vaccination clinic will be opening on March 15th at Centennial Hall in Kimberley. The clinic will be open five days per week as listed on the Interior Health COVID-19 vaccine information website. Interior Health has secured the site for the next seven months. Centennial Hall is located at 100 4th Avenue.
Vaccinations will be conducted by appointment only. Interior Health is starting with three groups - as of March 8th, seniors aged 90+, Aboriginal people aged 65+ and Elders are able to call Interior Health to book their vaccination appointment. On March 15th, those 85+ can make an appointment, followed by those 80+ on March 22nd. We will update this information regularly as more dates become available. 
To register, please call 1-877-740-7747 between 7:00 a.m. – 7:00 p.m. PST, seven days a week. Please do not call until you are eligible to do so.
Further information on making appointments can be found at www.interiorhealth.ca.
COVID – 19 Resources
April 1, 2020
The City of Kimberley recommends residents seek and only share information from credible resources. Below is a list of reliable resources.
British Columbia Centre for Disease Control (BCCDC)  – www.bccdc.ca
Healthlink – 8-1-1 for medical related information and advice
Seniors Support Line – 2-1-1 Call 2-1-1 if you are a senior requiring non-medical support such as grocery/prescription pick-up or if you are a volunteer willing to help.
COVID -19 Information Line – 1-888-COVID19 (1-888-268-4319) This line is for non-medical related questions related to COVID-19. It is open 7 days a week from 8:30 a.m. to 9:00 p.m. MST
Kids Help Phone – 1-800-668-6868 24/7 service offering professional counselling, information, referrals and volunteer-led, text-based support for young people.
Crisis Line: 1-888-353-2273 – Free, anonymous mental health support
Seniors Helping Seniors: 250-427-8733 - Providing support with grocery and prescription deliveries and referrals to anyone affected by the COVID-19 pandemic. 
New Provice-wide Restrictions in Place
November 20, 2020
The City of Kimberley will be following all Province-wide restrictions put in place by the Provincial Health Officer. Masks are now required in City Hall and all other public indoor spaces and retail spaces. City staff will enforce this requirement in all City-owned facilities. All other businesses and locations will be responsible for enforcement at their establishments.
It is important to remember that not everyone can wear a mask due to medical and/or other reasons. Please ensure you wear a mask at all indoor locations if you can. Please do not call City Hall if you see someone who is not wearing a mask as the City has no authority to enforce the Provincial mask restriction outside of City owned facilities. 
There is also a travel advisory in effect. At this time, all non-essential travel should be avoided. This includes travel into and out of B.C. and between regions of the province. For example:
Do not travel for a vacation
Do not travel to visit friends or family outside of your household or core bubble
We appreciate your attention to these guidelines and we can't wait to welcome visitors back to our community soon!
All province-wide restrictions can be found at this link:
https://www2.gov.bc.ca/gov/content/safety/emergency-preparedness-respon…
Public Safety the Priority as Aquatic Centre Remains Closed
September 30, 2020
In an effort to prioritize public safety during the COVID-19 pandemic, City Council has made the difficult decision to maintain the closure of the Aquatic Centre. Several factors were taken into account including the rising case numbers in BC. Ultimately, the layout of the facility does not make reopening a possibility at this time. Until the Provincial Health Officer's (PHO) orders change, the pool will remain closed.
Guidelines set by the PHO, viaSport BC, and the Lifesaving Society significantly reduce the number of people allowed in the facility. With 5 square meters of space required per person out of the water, and 7 square meters required when in the water, the lobby, change rooms, shower facilities, pool deck, and the pool itself make physical distancing requirements very difficult.
Guidelines also state that traditional swim lessons, large group programming, physiotherapy sessions and social swimming are not feasible. Children under 16 must be accompanied in the water by an adult.  The hot tub and steam room are unable to open. Every patron must shower prior to entering and exiting the water. This makes session timing very difficult when factoring in the limited access to showers due to the 5 square meter per person requirement, cleaning time needed between sessions, and the line-ups anticipated.
Residents who are concerned about the amount of parcel tax they paid for the facility in 2020 can be assured that any operating surplus realized in relation to the facility closure will result in a corresponding reduction to the 2021 Aquatic Centre Parcel Tax levy.
While City Council understands the physical and mental health benefits of swimming, they are not willing to put our most vulnerable populations at risk as cases rise in BC. The City looks forward to welcoming patrons back to the Aquatic Centre but have decided to prioritize the safety of our community at this point.
City staff will continue to monitor conditions and public health regulations to determine when the pool can reopen. Updates will be provided when more information becomes available.  
Civic Centre Set to Reopen
September 17, 2020
City Council has approved the 'COVID-19 Safe Operations Plan' for re-opening the Kimberley Civic Centre. The Centre will open its doors on September 18th for ice time. On September 21st, residents will be welcomed to use the walking track at specified times.
The re-opening plan was guided by direction from the Provincial Health Officer, the British Columbia Recreation and Parks Association (BCRPA), Recreation Facilities Association of British Columbia (RFABC), viaSport, and Sport BC. The plan will ensure the highest safety standards and processes are adopted in order to prevent the transmission of COVID-19 in our community.
In addition to the typical protocols of hand washing, staying home if sick, and physical distancing, other safety measures specific to the Civic Centre are in place. Primarily, all user groups are required to submit their own safety plan to Civic Centre staff prior to being allowed to use the facility with the exception of walking track users.  
Change rooms and showers are closed. Ice users will be required to suit up prior to entering the facility, and will have to wear their gear out of the building (space will be available inside for changing skates).  Users are required to enter through the Mark Creek entrance and exit onto the parking lot on Rotary Drive. A maximum number of 50 people are allowed in the building at any time. This includes facility staff, players/participants, and coaches. Contact information is required to be provided to a designated person at each session.
All users are required to familiarize themselves with the City's Civic Centre COVID-19 Safe Operations Plan found at this link: http://bit.ly/CivicCentre(link is external). Users will need to sign a form indicating that they have read the document. Ice users should also familiarize themselves with their own provincial sporting bodies plan and their local group's safety plan prior to participating in any activity.
The walking track will be open Monday to Friday with the following schedule – Monday, 9:00 AM – 10:45 AM; Tuesday, 9:00 AM – 12:45 PM; Wednesday, 9:00 AM – 2:30 PM; Thursday, 9:00 AM – 12:45 PM; and Friday, 9:00 AM – 1:15 PM. Users are asked to use the accessibility entrance at the northeast corner of the building on Rotary Drive. Walking track users will also be required to provide their name and personal contact information for contact tracing purposes but are not required to submit a safety plan. No other users will be allowed in the building while the walking track is open.
Ample time has been included on the Civic Centre schedule to ensure user groups are able to enter and exit the building safely between events and to give staff time to clean surfaces. The complete Civic Centre schedule will be available soon.
Like most other City facilities, the Civic Centre closed in March due to the COVID-19 pandemic. The City expects to update the public on the status of the Aquatic Centre in early October.
For more information, please see the full Covid-19 Safe Operations Plan at http://bit.ly/CivicCentre(link is external) or call the City Operations desk at 250-427-9660.
Kimberley Aquatic Centre Closure to Continue
August 19, 2020
The Kimberley Aquatic Centre will remain closed for the foreseeable future - or at least until the Provincial Health Officer (PHO) and provincial sporting agencies change the many guidelines and limitations to re-opening that are outlined in their return to sport documents. City staff will continue to monitor their direction and update the public again in late September.  
Staff have reviewed the guidelines set by viaSport BC, a not-for-profit organization created with support of the Province, as well as direction provided by the Lifesaving Society of BC and the British Columbia Recreation and Parks Association (BCRPA). While the pool itself is considered low-risk for transmission of COVID-19, other areas of the facility are not.
The narrow lobby, hallways and change rooms make enforcement of 2-metre physical distancing next to impossible. viaSport guidelines state that individuals must have at least 5-meters of 'unencumbered' floor space per person meaning 5-meters of open space when out of the pool. It further recommends at least 7-meters of space per person when in the water. This limitation drastically limits the number of patrons in any given area of the facility, which already requires 7-10 staff on-site when open. The guidelines also recommend prohibiting drop-in programs as physical distancing is very difficult with this type of programming.
A further recommendation that patrons utilize one door for entry and an alternate door for exiting the facility isn't possible at the Aquatic Centre. viaSport also mandates the closure of the hot tub and steam room as these areas are unable to accommodate physical distancing. Even after the Aquatic Centre re-opens, the hot tub and steam room will likely remain closed due to the increased risk of infection.
"This is a tough decision for us and one we know residents are passionate about. As cases rise in our province, Council is supportive of keeping the Aquatic Centre closed until it is safe to re-open," says Scott Sommerville, Chief Administrative Officer. "We are not willing to put our staff at risk of contracting COVID-19, including lifeguards who potentially have to have physical contact with patrons in the event of an emergency. We will continue to review the situation to determine if the PHO has made any changes to orders or updates to the sporting bodies' recommendations. Staff and patron safety is our number one priority and if their safety means we go a little longer without the pool operating, then that is what we have to do. We aren't taking any chances with public health."
On March 17th, 2020, the Aquatic Centre and other City facilities were closed due to the COVID-19 pandemic. While outdoor spaces have re-opened with increased safety measures in place, most indoor facilities remain closed. The City will continue to inform the public as updates become available. 
Kimberley's Rotary Splash Park to Open This Weekend
July 14, 2020
City Crews will be turning on the taps at the Rotary Splash Park on Friday, July 17th after the COVID-19 pandemic forced it to remain closed this season. As with other parks and playgrounds that have re-opened, enhanced safety measures will be put in place to help limit the potential spread of the virus.
One of the biggest changes at the park will be the introduction of painted circles surrounding the splash pad to help people maintain physical distance. Twelve large white circles will be painted on the grass and park users are encouraged to remain in their circle with other members of their household or group while not using the splash pad itself. If all circles are full, the public is asked to return when one becomes available.
"We have been carefully planning the re-opening of all public parks and facilities," said Brett Clark, Manager – Parks and Facilities. "It's very important that we consider public safety at each space in order to ensure site-specific measures are in place to protect against the spread of COVID-19. We can't wait to see families out and enjoying the splash park but want to be clear that we must continue to practice social distancing, washing hands often, and please be patient with each other."
Other safety measures include ensuring those aged 12 and under are accompanied by an adult; come prepared with hand sanitizer and/or wipes; wash your hands often; and use available garbage and recycling bins to ensure a clean environment. The splash park will be open daily from 9:30 a.m. – 4:30 p.m.
The City is working on plans to re-open indoor facilities including the Aquatic Centre, the Civic Centre, and Centennial Hall but no dates have been decided. Indoor facilities require more robust planning to ensure public safety. Thank you for your continued patience.
City of Kimberley: City Hall COVID-19 Safety Plan
June 5, 2020
The purpose of this document is to protect City Hall employees and the public by reducing the potential of COVID-19 transmission within City Hall.
See the full document HERE. 
Playgrounds and Public Washrooms Next to Re-Open in Kimberley
June 4, 2020
All City of Kimberley playgrounds are set to re-open on Friday, June 5th, 2020 with enhanced health and safety measures in place. Also re-opening are the public washroom facilities at Rotary Park and the Skate Park.
Detailed signage will be placed at all parks and washrooms outlining expectations of proper use. Please note that City staff will not be sanitizing playground equipment as the BC Parks and Recreation Association states that the UV rays from the sun, as well as rain water, helps to reduce the spread of COVID-19. Washroom facilities will be cleaned once a day at opening with operating hours of 8:30 a.m. – 4:30 p.m. each day. All washrooms and playground equipment are 'use at your own risk'.
City staff strongly encourages patrons to continue to practice safe physical distancing; stay home if you are experiencing any symptoms of cold or flu; wash hands often; limit the number of people you are coming in contact with; and be patient with other children using equipment. Please pay attention to all posted signage and directions.
Thank you for your dedication to helping flatten the curve in Kimberley and in BC. If you require further information, please contact the Operations Department at 250-427-9660 or email operations@kimberley.ca.  
Kimberley City Hall to Re-Open with New Safety Measures and Procedures
May 28, 2020
As the province begins a phased re-opening of facilities closed due to the COVID-19 global pandemic, the City of Kimberley is carefully considering the re-opening of its public facilities. The first facility to re-open is City Hall with new health and safety procedures in place. At this time, City Hall will open beginning June 1, Monday to Friday from 8:30 a.m. to 4:45 p.m. and will only be open for payments of utility bills and property taxes as well as license fees, permit fees and transit passes.
"Our safety plan is in place, and we are looking forward to having a "soft" re-opening of Kimberley City Hall.  For the first week or two, we will have limited in-person interactions with our residents," said Scott Sommerville, Chief Administrative Officer. "Mondays and Wednesdays will be set aside for our seniors and others who require a bit more assistance.  Please don't come to see us if you are symptomatic or sneezing.  We will be announcing the re-opening of public washrooms, playgrounds, and other facilities soon."
A member of the Kimberley Fire Department will be posted at the main entrance to guide visitors through the new procedures. Sneeze guards and hand sanitizer stations have been installed as well as increased signage. We recommend only one person per household to visit City Hall at a time and that small children and pets please remain at home.
While it is important to open City Hall for those needing in-person help from City staff, we strongly encourage those who are able to make Utility and Property Tax payments online through your financial institution or by telephone banking to do so. Other forms of paying utility and property tax bills and permit and license fees include mailing a cheque to City Hall or placing payment in the slot box to the right of City Halls main entrance.
At this time, the Planning and Operations Departments will hold meetings by phone or online conference as needed. To contact the City Operations Department call 250-427-9660 or email operations@kimberley.ca. To contact the Planning Department call 250-427-5311 or email  planning@kimberley.ca or buildingofficial@kimberley.ca. You may also view the City of Kimberley Department directory to reach the appropriate individual for your needs: www.kimberley.ca/contact
We appreciate the community's patience through this time. If you require further information, please contact City Hall at 250-427-5311 or by email at info@kimberley.ca. 
Phased Re-Opening of Parks and Facilities to Begin in Kimberley
May 19, 2020
The City of Kimberley is proud of the efforts of our community to help flatten the curve in British Columbia. With the announcement of the Province's Restart Plan, we are implementing plans that will allow the gradual re-opening of City spaces and facilities in a careful and planned way.
Starting today, May 19th, we will enter into Phase 2. The City will begin by opening:
All park spaces (excluding playgrounds and play structures)
Picnic areas for families and small circles
Tennis and basketball courts (avoid use of shared equipment)
Skate Park
Sports fields for use by families and small circles (no team sports or practices allowed)
Please pay attention to facility modifications and posted signage.  It is also important to keep your circle small and be patient with other users. While each facility and activity has specific health and safety guidelines, general guidelines remain in place for all activities. Physical distancing, by remaining at least 2 meters apart from those not in your immediate household, continues to be important, as does frequent hand washing, avoiding touching your face, and coughing into your elbow.  A 14-day self-isolation is required for returning travelers. Last but not least, if you have any symptoms of cold or flu, stay home. With your help we can all move our community forward safely.
The City of Kimberley will continue to monitor community risk and follow the guidelines set out by Provincial Health Officer, Dr. Bonnie Henry and Interior Health. All City COVID-19 related information can be found on the City's website at https://www.kimberley.ca/covid-19-city-updates-0. We look forward to opening more facilities in the coming weeks with the advice of Provincial and Federal authorities. 
A Message from Mayor McCormick #8
May 19, 2020
Our doors are beginning to open. The Province recently released its BC Restart Plan - a phased plan to re-open the Province. This is thanks to decreasing case numbers and low levels of hospitalization. Great job BC and specifically Kimberley! 
As a community, we have followed the Provincial Health Officer direction to the letter. When lock-down is the order, the message is the same for everyone. Going forward, we will continue to follow the PHO advice, but execute re-opening in a way that considers our unique needs as a community.
Since 2001, Kimberley's single economic driver is tourism. This is significant because our retail business community is dependent on tourism spending. Local spending is not going to be enough to keep everyone viable. Opening up our economy is going to mean opening up to visitors, but it must be done in a safe way.
Tourism has been under siege since the beginning of this pandemic. The Alberta visitor experience the last few months in several East Kootenay communities is troubling. There are stories of contempt, conflict and even vandalism. Secondary homeowners and regular visitors to Kimberley have been awesome, respecting our reasons for asking them to hunker down in their primary residence as per the advice of both Provincial Health Officials.
The next phases of the BC Restart Plan are about learning to live with this virus. It starts with re-opening businesses over the next several days and weeks. It means a thoughtful plan for reintroducing visitors to Kimberley. It also means a strong 'shop local' commitment from residents.
A business-focused stakeholder team has been working on an opening strategy for several weeks now. The team includes: John Hamilton (Tourism Kimberley), Daniel Holden (Chamber of Commerce), Pat Elynuik (Northstar Mountain Village, Mountain Spirit, Kimberley Lodging Company), Ted Funston (Resorts of the Canadian Rockies) and myself. Our goal is a made-in-Kimberley strategy that addresses all interests of the community: our residents, our businesses and our visitors. Great care is being taken to develop 'safe' behavioral practices and continuing to focus on protecting ourselves from COVID-19.
Details will be announced as we approach Phase 3 and the addition of activities as specified in the BC Restart Plan. In the meantime, stay informed, stay calm and be safe.
Fire Restrictions Lifted
May 7, 2020
In light of recent rainfall, the Kimberley Fire Department has lifted all restrictions implemented due to the COVID-19 pandemic on backyard fire pits. Fire pits can now be operated between the hours of 3:30 p.m. and 11:00 p.m. Residents are required to have a permit and all regulations still apply. Visit https://bit.ly/KimberleyFirePitguide for all information on the City's Open Burning Bylaw as well as the application form for new permits and Fire Pit Frequently Asked Questions. Completed permit application forms and fees can be placed in the slot box outside City Hall. Thank you for your cooperation.
A Message from Mayor McCormick #7
May 5, 2020 The New Normal - It is one of those terms that we are now hearing so often that it is annoying. It feels like a warning; the 'new' is in some way going to be worse than the 'old'. For me, 'new normal' is another way to say 'opportunity'.
Let's face it – there are flaws in the way we are doing things; whether it be personal, professional, community and broader. There is always room for improvement, but as humans we tend to procrastinate or fear any change. We like comfort. The discomfort that a disruptive event like we are experiencing with COVID-19 creates real opportunity for self reflection and positive change.
Kimberley is resilient. New business licenses are still being submitted to City Hall; some businesses are upgrading their location (congratulations Crème Cheese Shop); many entrepreneurs are changing their business model to survive the transition; basements are being dug; our major projects are still in play; and what our restaurants have done is truly amazing.
The Province will announce their highly anticipated plan for re-opening this Wednesday. Dr. Henry's update on Monday gave us some hints. We are about to peel the band-aid back a little at a time to ensure that the wound is in fact healing. Ripping the band-aid off would be a mistake. It is with anticipation that we await the address from Premier Horgan.
https://www.cbc.ca/news/canada/british-columbia/b-c-health-officials-be…
Our economic reliance on tourism is a challenge as tourism is expected to take the biggest hit during this economic downturn. Our key stakeholder groups (Tourism Kimberley, Chamber of Commerce, our accommodators and the City of Kimberley) are working on solutions and will publish our strategy for re-engagement once we understand the Provincial path forward.
As we reopen our lives in the coming weeks, lets all look for the opportunities that disruptive change is presenting, and take full advantage of this generational event. Physical distance and enhanced hygiene will be with us for some time so please make sure these are top of mind every day.
Stay informed, be calm, and stay safe.  
A Message from Mayor McCormick #6
April 28, 2020
I'd like to send a big THANK YOU to everyone for sticking to the plan and following the direction set by our Public Health Officer! We are now in week 7 and the COVID-19 pandemic remains a challenge for us all.
Silly comments (said by people who should know better), protesters and dissenting opinions are getting a lot of airtime. Be amused, but please keep your resolve to follow the leadership of Dr. Bonnie Henry. We must continue to follow her orders as any change now will only put at risk the sacrifices that we have all made to this point.
It was encouraging to see Saskatchewan take the lead in publishing their plan for re-opening. Here in BC, case numbers are dropping, particularly the most important one – hospitalizations. Some institutional outbreaks have caused total numbers to go up, but those of the general population are encouraging. We can look forward to the BC plan soon. You can view updated BC and regional data from the Province here: http://www.bccdc.ca/health-info/diseases-conditions/covid-19/data.
It has been inspiring to see the various pivots local business owners are implementing to keep their business open and generating cash. Although government programs have offered emergency help, it is very short term. Without cash from new sales, most of these programs are really a liability and not all businesses qualify for them. A local business owner recently described the challenge of changing a business model in real-time and the importance of sales. I found her message very inspiring. You can read her comments here: https://www.facebook.com/pedalandtap/posts/2814413615273761?__tn__=K-R
Every one of our local businesses are facing these challenges right now. Please support them as you can.
This is a very confusing time, but there are key indicators that better days are close. Please…help us stay the course.
Be informed, remain patient and above all be safe.  
Thank you, Kimberley!
April 24, 2020
The City of Kimberley would like to thank our community for our continued cooperation with physical distancing efforts and by following the guidelines set out by Dr. Bonnie Henry. While these orders remain in place, we are very proud of the actions you have taken thus far to help ensure the safety of your friends, families, front-line workers and our most vulnerable residents.
Mayor McCormick put it best, "Your hard work is paying off. We are in a marathon, not a sprint, and the finish line is not yet in sight. However, following the Provincial Health Officer direction is working. If we keep our focus on staying home, physical distancing and hygiene, we will beat this thing sooner than if we get frustrated and decide to change our behavior."
Stay home, stay calm, stay safe and where possible, support local. Have a great weekend, Kimberley!
A message from Mayor McCormick #5
April 21, 2020
As a result of the Covid-19 pandemic, we are seeing devastating financial consequences for business – big and small. Our business community is all but closed indefinitely which means no sales, no revenue. Just like individuals, business has commitments that do not stop – rent, utilities, taxes, inventory commitments, etc. And of course, businesses are the source of our jobs. Without those jobs, many, many people will not have the resources to support their families.
Our small-business community received some action from the provincial government late last week including school tax reductions, payment deferrals and loans. The City of Kimberley's 0% increase in variable taxes will help as well. However, aid is no substitute for sales.
Tourism Kimberley, the major accommodators, the Chamber and City economic development resources share the sense of urgency and understand the steepness of that hill. Together we are developing strategies that will prime the pump as soon as the doors are allowed to open once more. In addition, we are participating in the regional Economic Resiliency Task Force. All of this is aimed at getting business revenues back - as high as possible as quickly as possible.
In the meantime, there are many businesses that have implemented new approaches to servicing customers in order to keep the doors open. And all have taken precautions to protect staff and customers. Please check out these businesses and support them within the boundaries of safety. It would be a very different Kimberley if they did not survive.
Please stay informed; stay calm; be supportive…and we will successfully ride this out!
The Importance of Physical Distancing on City Trails
April 17, 2020
City staff is pleading with the community to practice physical distancing when using pathways and trails in Kimberley. While we understand the importance of getting out for air and exercise, it is imperative that residents maintain at least a 2m distance from those around them. The City continues to observe and receive reports in opposition to this public health measure.
The City is also receiving many reports of off-leash dogs. In some instances, unleashed dogs have required owners to chase them and break the 2m boundary required by provincial order. Dogs MUST be on a leash within Kimberley unless they are in one of our designated off-leash areas. These areas include the Kimberley Nature Park, Lois Creek Trails and the Marysville off-leash area. Maps to these areas can be found here: https://kimberley.ca/community/things-do/recreation-and-parks/leash-dog….
We have also had reports of cyclists not complying with physical distancing. We are imploring cyclists to notify pedestrians of their presence in advance of passing them to allow maintenance of the 2m requirement. Slow down and use a bell or your voice to let other trail users know you are coming.
Signs will be placed at entry points to local trails in the coming days. The City understands the importance of getting outside but will have to recommend closing our trails if we cannot get compliance on physical distancing issues. 
City to Provide Tax Relief and Deferrals
April 16, 2020
The City of Kimberley continues to seek ways to support residents during the COVID-19 crisis. Because municipalities are required by law to deliver a balanced budget, they generally have limited control over financial relief measures. However, Council and staff have determined opportunities to help during this pandemic.
"Council and staff have been working towards providing financial relief to taxpayers during these challenging times. This relief will take two forms: tax reduction, and tax and utility fee deferral," says Scott Sommerville, Chief Administrative Officer.   
"With regard to tax reduction, Council directed staff to prepare a 5-year financial plan with a 0% increase in municipal taxation for 2020 by transferring $139,559 from prior years' surplus to make up for lost tax. Council also directed staff to prepare an Alternative Municipal Tax Collection Scheme Bylaw.  Rather than the mandated 10% penalty for unpaid balances being applied on July 2nd, the bylaw will allow for 5% to be applied on July 2nd and 5% on September 1st."
Sommerville continued, "The Utility Rates Penalty Deferral Bylaw was recently adopted by Council which adjusted the penalty dates for unpaid second-quarter utility payments from June 10th to August 10th.  City staff will continue to monitor for legislative changes that may allow for further financial relief."
Property owners need to be aware that the City has no control over the amount of property tax it will be required to collect for, and subsequently remit to, the Regional District, the Regional Hospital, School Tax or the other taxing agencies. Changes to property assessments and flat tax adjustments may also affect the tax bill. Therefore, when property owners receive their tax notices in May, they may still see an increase or decrease from their 2019 tax bill based on these adjustments. In rare cases a property owner's tax bill will be the same as 2019 despite the 0% municipal tax adjustment in 2020.
Businesses and light industrial class properties will also see a 0% increase to the City portion of their property tax bill in 2020.  The Province previously announced that school taxes will be halved for these tax classes.
Seniors Helping Seniors Program Expands Service
April 15, 2020
The City of Kimberley is pleased to support the Summit Community Services - Seniors Helping Seniors Program as they temporarily expand their services to help those affected by the COVID-19 pandemic. Kimberley residents who are self-isolated, quarantined, have underlying health conditions, and anyone having difficulty getting out for supplies can seek support from the programs dedicated staff and volunteers.
The Seniors Helping Seniors program is offering support in many ways. They will help with:
Grocery and/or supply pick-up and delivery;
Prescription pick-up and delivery; and
Providing referrals to other support agencies.
Residents can call 250-427-8733 to seek support 7 days a week between 10:00 a.m. and 4:00 p.m.
A Message from City CAO Scott Sommerville
April 9, 2020
On behalf of the staff of the City of Kimberley, I would like to thank our residents for following Dr. Bonnie Henry's health orders, and for demonstrating our ability to "flatten the curve".  For the most part, our community is abiding by the orders and our combined efforts are starting to show positive results.
For the visitors we usually see on a long weekend, we thank you for staying home and coming to visit us when it is safe to do so.  We are looking forward to welcoming you back!
Our business community has been hard hit by the pandemic.  Many shops have had to close their doors, many are "open but closed" and providing deliveries, and many are struggling with the pressures of staying open and providing essential goods and services to our community.  Let's support our businesses by shopping local whenever possible and by being patient with the change in how they are operating.
Now we need to double our efforts this Easter long weekend!  It's going to be difficult to be apart from our families and friends, but they are just a phone call or video chat away.  We are lucky to live in Kimberley, as there is no better place for a "staycation".  It's OK to get out for a walk and to enjoy some sunshine (Good Friday looks like your best bet!).  Just practice 2m of distancing, a bit more if you are like me and huffing and puffing your way up hills after a long winter.
Keep an eye out for your neighbours, particularly the elderly and vulnerable.  The City is working with local programming and volunteers to offer supports to the community.  More details will be released soon.
The City's Emergency Operations Centre is activated at Level 2: planning, communicating, shoring up essential services, and monitoring for the latest information on the pandemic.
Our City staff are dedicated to ensuring that essential City services are continuing to run as normally as possible.  Potholes are being filled, streets swept, garbage collected, water flowing, and the sewage is running downhill.  Many City Services are still available online, by phone or email, and by appointment. Check out www.kimberley.ca, call 250-427-5311 or email info@kimberley.ca. For the latest information and updates, you can also like our Facebook page @CityofKimberley. City Hall staff are off Friday, April 10th and Monday, April 13th for a much-deserved break. We continue to monitor this situation and will provide necessary updates.
Stay Calm, Stay Kind, Stay Home, and Stay Safe,
Scott Sommerville
Chief Administrative Officer for the City of Kimberley
City Bylaw Update
April 8, 2020
The City of Kimberley Emergency Operations Centre would like to commend the community for respecting the measures enacted to reduce the spread of the COVID-19 threat.  The City's Bylaw Enforcement Officer reports that the community overall is observing safe physical distancing and refraining from using City of Kimberley parks and playgrounds.  The Officer also reports that to date there have been only a few physical distancing issues and that businesses are ensuring that their workers and patrons are safe. 
All other bylaws are still in effect and will continue to be enforced including leash and parking bylaws.  Please leash up to protect our pets. Please pay attention to parking signage. Doing so will ensure emergency vehicles unimpeded access to those in need and allow them to keep our community safe.  
As we head into the Easter weekend, let's continue to flatten the curve. Stay home, practise physical distancing and wash your hands. Let's all keep up the great work!
Backyard Fires Suspended
April 7, 2020
The City of Kimberley is suspending all backyard fire permits until further notice.  This will help ensure that local air quality remains as high as possible for those with respiratory concerns.  It will also help reduce unnecessary calls to the Kimberley Fire Department. CSA-approved gas burning appliances such as outdoor barbeques and heaters are still permitted as long as they are utilized in accordance with the manufacturers guidelines. This coincides with a Provincial ban on all open fires within the region.
Message from Mayor McCormick #4
April 6, 2020
Well, another week passes and it feels like we are pretty much where we were last week.  However, this is not the case.  Much is happening in the background and this update touches on several of those things.
1. Non-essential travel
The vast majority of people in Kimberley and in BC are staying home.  However, despite direction from our Public Health Officer Dr. Bonnie Henry, and warnings of the negative consequences of ignoring her directive, people continue to travel to Kimberley and our region.  These are people who just don't understand that the largest risk to all of us is transmission, and not whether you are sick or not.
I have taken calls from Albertan's and BC Residents who own homes in Kimberley.  They are upset that I and other mayors in the region have pleaded with them to stay home until we are told it is safe to travel again. Ownership and paying taxes does not make it acceptable to travel here at a time when that travel puts our community at a higher level of risk. No matter where you live in the country, the message is 'stay home'. I am not picking on any one. Because our population is less dense does not mean the risk to all of us is less.  Please…use common sense and stay home until we get word that travel is OK again. I cannot emphasise this enough.
2. City of Kimberley
City staff lead by CAO Scott Sommerville and his managers are focused on continuance of core City services today, and everyday.  Our emergency operations center (EOC) is at Level 2. It expands EOC staffing to include a Risk Management Officer and additional section chiefs as required.  Scott is the EOC Director and Fire Chief Rick Prasad the Planning Chief and Corporate Officer Maryse Leroux the Risk Management Officer.  We are fortunate to have this team looking out for the community.  Council fully supports their actions.
Although City Hall is closed to the public, the City of Kimberley remains open. Scott's first operational priority is staff safety. His second priority is continuance of core services. You will see that our crews are still doing things as planned and will continue to so until the situation dictates otherwise.
We are taking steps to financially help residents with actions that are within our control.  For example, we have announced a deferral on utilities payments for two months. We will assess what other actions are appropriate and act accordingly.
It is important to remember that the vast majority of City revenue comes from taxes and utility payments. So as payments are stressed, so is our operating budget and consequently service delivery.  Council is meeting with staff this week to review our cash flow projections and discuss what this means for the balance of 2020. We will communicate as it all unfolds.
3. Our mental health.
We live at a time of instant answers to any questions.  We expect the 30 second soundbite.  We have a 30 second attention span.  It is against common behavior to be patient and wait at a time when we have the most questions.  Anxiety levels are increasing as time passes.  We have weeks to go before we see an end to the isolation. We need to trust our healthcare community, our scientific community and our leadership that they are doing all that is humanly possible to lead us out of this pandemic. I am already hearing critics.  And it will only get worse in the coming weeks unless we apply a huge dose of patience and keep the faith in our leaders. A lot of good humor and new activities are there for the viewing. Tune in and participate…it will make you feel better.
4. Progress
As time passes, so does the data we collect and our understanding of the behavior of this virus. This progress is not always visible to us, but it is there.  It is giving our leaders the information they need to make good decisions. And it will pave the path out of this if we continue to do our part:
Stay home.
If you need to go out, practice physical distancing
Wash your hands frequently; there are so many touch points in even the simplest activity.
We are making a difference.  Stay informed. Stay calm. Stay safe.
Role of the Bylaw Enforcement Officer
April 3, 2020
On March 26, 2020, Municipal Bylaw Enforcement Officers received orders from the Minister of Public Safety and Solicitor General to provide assistance "as may be required for the purposes of enforcing public health orders." But what does that mean exactly? City staff aim to clarify this role for the public.
Bylaw Officers are expected to monitor facilities and areas that have been closed by the City and/or public health orders; they can provide warnings, information and advice to businesses and members of the public in respect to public health orders or to those in contravention of an order; and can pass on information of any contraventions to Public Health Officers. Bylaw Enforcement Officers have not been given orders to detain individuals or to issue fines or penalties to individuals or businesses suspected of not following a public health order.
For example, if the Bylaw Enforcement Officer observes a contravention to a public health order such as a large gathering of people or individuals hanging out at a public playground, they are able to speak with the individuals and offer education and/or warnings to them. They must then report the contravention to the Public Health Authority for follow-up if required.
Get the full details here: https://www.kimberley.ca/news/role-bylaw-enforcement-officer
Kimberley City Council Allows 2 Additional Months to Pay Utility Bill 
March 31, 2020
At a Special Meeting of Council held Monday, March 30, 2020, Kimberley City Council adopted the Utility Rates Penalty Deferral Bylaw that will see the penalty date for 2nd quarter utility payments deferred by two months from June 10th to August 10th, 2020.
In response to the COVID-19 pandemic, Council is seeking several ways to support businesses and residents through this difficult time. This bylaw adoption will provide some financial relief for property owners who may be affected by current events by giving them two extra months to pay their utility bill. Property owners who wish to pay by the original due date are encouraged to do so. The current bylaw stipulates that a 10% penalty be applied to any unpaid balance after the payment due date.
See the full press release HERE. 
An Update from Mayor McCormick
March 31, 2020
Please be advised that for at least the next month the City of Kimberley is discouraging all non-essential visitor traffic as we cope with the consequences of COVID-19.
We know that the virus is in our community, but lack of broad testing makes it invisible.  Our primary concern is for Kimberley's more than 2,000 residents that are in the vulnerable category. One recent quote I've heard is that 'viruses don't travel, people do.' Visitors entering the community are potential carriers of the virus that puts this group at further risk. We are less concerned that travelers are at risk of getting sick than we are that they are carriers of the virus.
The second key consideration is our healthcare facilities.  We are a rural community without a hospital. We rely on the regional hospital in Cranbrook whose facilities, in the event of a chronic increase in critical cases, cannot carry the increased load that additional visitors bring.  This puts everyone at a much higher level of risk.
See the full message HERE. 
An Update From Mayor McCormick
March 27, 2020
We are making a difference!!
The media update from our Provincial Health Officer Dr. Bonnie Henry reinforced that the hygiene and physical distancing measures we are taking are indeed making a difference. As good as this is, we are not close to being on the other side yet. Rather than risk complacency, we need to double down.
It is NOT the risk of getting infected that is driving this, it is eliminating each of us as carriers that infect others – in particular the most vulnerable of our residents. In Kimberley, that is about 2,000 people, so EVERYONE needs to take this seriously.
It would be naïve to think that we do not have the virus here. It is not showing up in our seniors residences or care homes and we need to keep it that way. I am so impressed with the leadership of Dr. Henry and the rest of the BC Health team. They are using real data from other countries who went through this first to inform planning and make critical decisions…no guessing. We must continue to trust their orders and direction.
• Keep a physical distance of 2 metres or more if you must be out; • Wash your hands for at least 20 seconds with soap and water frequently; • **Stay Home**
Doing this will produce a positive outcome for Kimberley, which is all we can control.
Be attentive for those who may need help…with groceries, meds refills, or whatever. Many people do not have family close by, so let's practice neighbors helping neighbors as best we can.
I want to recognize our CAO Scott Sommerville, his senior managers and all of the staff at the City of Kimberley. You see a continuance of City services that appears business as usual; it is anything but. Staff are still out performing their duties, but with modified shifts and work practices to maintain a healthy workforce.
Many of our local businesses have closed their doors temporarily, but many others are either essential services or adapting to safe online, pickup or takeout services. Please do your best to support them.
Interior Health has assigned a liaison to the City who will provide consistent information and communication between Interior Health and the City of Kimberley. This is great because it allows us to stay out of their way and focus on the core services we provide to you.
I am sensing a shift in the news reporting as more real data is available, although there are still too many sensational headlines for my liking. Stay informed, but do not watch the news all day…it is not good for our mental health. I find that the morning conferences from the Prime Minister and from the BC Health team are all that is necessary to be informed. You will make your own choices, but please do not overdose.
Best estimates to see tangible results for our efforts are about 2 more weeks. Stay informed; stay calm; be supportive…and we will successfully ride this out!
Helping Your Community
March 27, 2020
Remember to take care of yourself and each other during this time - be a good neighbour, practise good hygiene and social distancing, and support those most vulnerable including our seniors. See all of the ways you can help HERE. 
City Working on Financial Supports for Residents and Businesses
March 24, 2020
The City of Kimberley is exploring ways to provide financial support for residents and businesses during the COVID – 19 pandemic. Staff and Council aim to provide tax and utility relief for residents and businesses facing financial challenges. Here is a brief synopsis of those (including Provincial) initiatives. Details below.
Providing two additional months to pay City utilities;
Temporary termination of water, sewer, and solid waste fees for vacant commercial and residential property;
Monitoring expected changes to Provincial legislation;
Province allowing property tax deferral for residents that qualify;
Province reducing school tax by 50% for businesses and light-industrial property;
Businesses with a payroll over $500,000 can defer their Employer Health Tax payments until September 30th, 2020.
See the full press release HERE. 
Operations Department Services and Contact
March 24, 2020
The Operations Department continues to serve our community. Click HERE for department updates and information. 
City of Kimberley to Close all Playgrounds and Public Recreation Areas
March 23, 2020
The City of Kimberley is asking all residents and visitors to avoid using public playgrounds and recreation areas throughout the City. This includes playgrounds, basketball and tennis courts, the skate park and picnic areas. Individuals and groups are continuing to gather in these areas and are posing a risk to themselves and our community. Signs will be placed at all sites that are being closed.
The Kimberley Nature Park, Lois Creek Trails and Rails to Trails remain open, however, we do ask that users maintain at least 2 meters from others using the trails.
Click HERE for the full press release. 
A message from Mayor McCormick
March 21st, 2020
There is no way to have a short opinion post today!
Uncertain times call for calm and reason. As uncomfortable as that feels.
Let's not try and be the smarter people in the room. It is not true and it is not helpful. And there are no conspiracies. Until the scientific community discovers specifics about COVID-19, things will remain uncertain. We need to give these people the slack they need to get their jobs done. Once we have certainly about the behavior of the virus, the plan to recovery – health wise and economically – can begin. Until then we need to be patient and follow the direction of the Provincial and Federal Health officials.
Make no mistake, those who are less than 50 years old are a big part of the problem unless they too quarantine. In Kimberley, 23% of our population is 65 or older. That is 1800 people. Add to that those younger than 65 who have compromised health conditions – cancer, asthma, arthritis, heart disease, etc, and we can add at least another 1000 or so people to the 'compromised' list. Those are big numbers in our community. Our biggest health risk is spreading the virus to those that are compromised, and all 8,000 of us are possible carriers.
See the full update HERE. 
City Services Contact Page
March 21, 2020
Please click HERE for a list of phone numbers and email addresses to contact essential services at City Hall during the closure due to COVID-19 pandemic. 
City Hall Closed to the Public
March 18, 2020
In the interest of protecting City employees, City Hall is closed to public.
Please call 250-427-5311 or email info@kimberley.ca(link sends e-mail) and staff will assist you or help you in making an appointment to visit the building. Residents are also encouraged to use online services found at https://kimberley.ca/services/online.
Joint Message from Kimberley Mayor Don McCormick and Brian Sondergaard, President of the Kimberley & District Chamber of Commerce
March 17, 2020
The developing situation with COVD-19 continues to build a sense of unease. We thought it would be a good time to share some information with you and reassure people in Kimberley that we will get through this anxious time.
McCormick emphasizes being both positive and cautious. "We live in the best place in the world to weather this health event. We know that keeping clear and level heads is very important. We also know that seniors and anyone with underlying health conditions are at particular risk; we need to keep these populations safe. If you have travelled abroad, you must quarantine yourself for the recommended 14 days. Please refrain from visiting friends or relatives in care homes."
See the full message HERE. 
City Closing Aquatic Centre
March 16, 2020
City Staff have made the decision to close the Kimberley Aquatic Centre at this time. Effective at 8:00 p.m. today, March 16th, the Aquatic Centre will suspend all operations.
Staff had anticipated the full spring shut-down of the Aquatic Centre in the coming weeks and will implement that shut down earlier than planned. Staff will be performing yearly required maintenance to the facility and providing a deep clean to all surfaces in the building. We look forward to re-opening as soon as operationally possible.
COVID-19 Update
March 16, 2020
As you are all aware, the situation across Canada regarding COVID – 19 is changing very rapidly. The City of Kimberley is working hard to ensure the safety of its employees and residents.
Following recommendations of the BC Centre for Disease Control (BCCDC) and the Ministry of Health, we aim to increase social distancing in Kimberley. As of today, Monday, March 16th, 2020, the Kimberley Aquatic Centre has suspended all programming including lessons, aquafit classes, and spring break camps. The steam room and hot tub are closed. The pool remains open for swimming at this time. The swim schedule can be found at www.kimberley.ca - follow the link to the Aquatic Centre. We will continue to keep the public informed with further developments as they become available.
See the full update HERE. 
City Temporarily Closes Civic Centre and Marysville Arena
March 13, 2020
City staff have made the decision to suspend all operations at the Civic Centre and Marysville Arena until further notice. Following the lead of Hockey Canada and BC Hockey as well as recommendations from Federal and Provincial Health Authorities, suspension of the 2019/2020 KIJHL playoffs and ongoing concerns regarding COVID-19, it was determined that the best course of action is to shut the facilities.
All on ice activities are cancelled until further notice. The walking track at the Civic Centre will also remain closed until further notice. The City apologizes for any inconvenience and thanks all residents for their understanding.